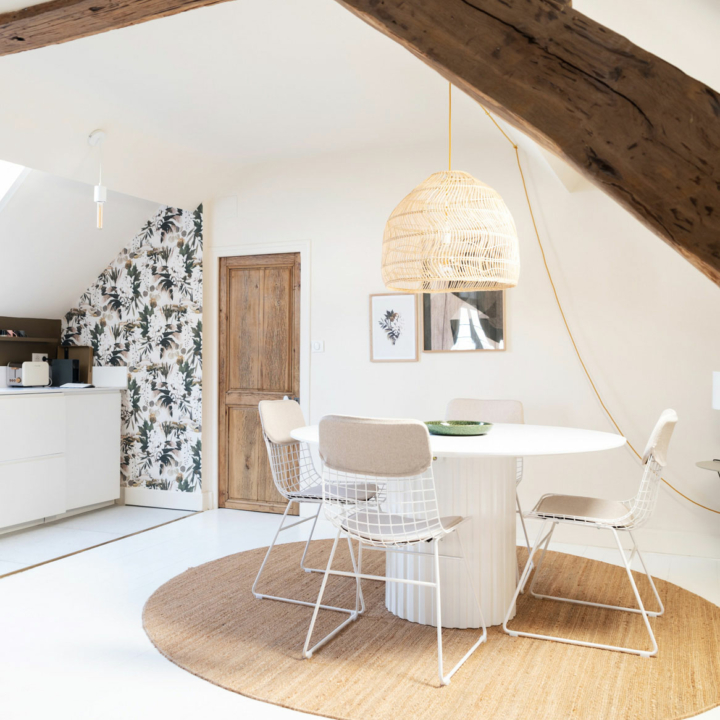 On the top-floor of an historic building, this 55m² apartment provides you with a home away from home. Full of light and right under the roof, enjoy a serene interlude. The bedroom overlooking a quiet street offers a separate bathroom and welcomes you to a cocooning atmosphere. The fully equipped kitchen area allows you to experience your stay as independently as you wish. The suite is entirely decorated with our own brand's designs and our partner brands' furniture pieces.
From 125€ / Night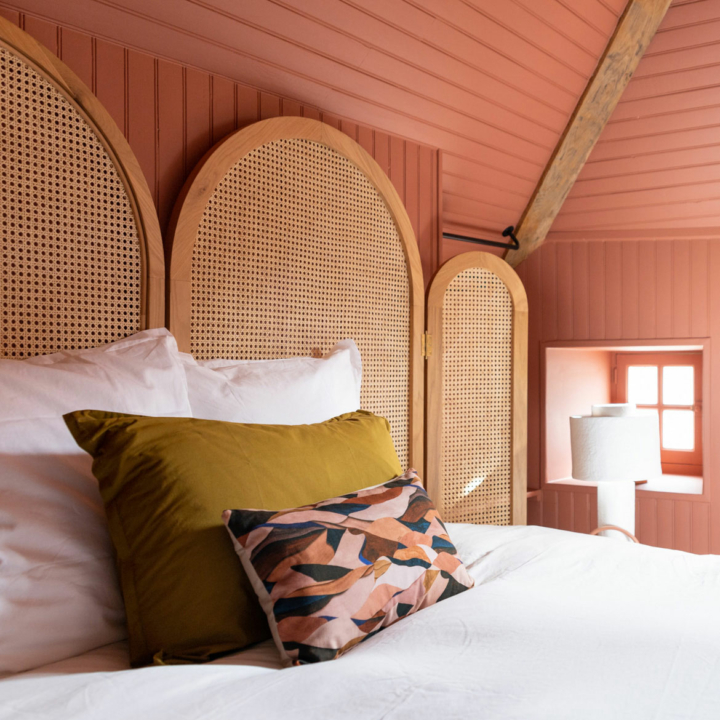 Bathroom
with shower

Free
WiFi

Meal basket
on demand

Equiped
kitchen

Massage
on demand
Superior Apartment
Soft lighting, quiet atmosphere and warm colours make for a South-inspired apartment. In the living-space, take a walk through Provence and discover our collection "Récits des Sens", a collaboration with the furnishing brand alinéa. In the bedroom, travel to the desert and the warm tones of Medina with our classic design Graphique N°13. The furniture and accessories are most carefully selected to make your stay as pleasant as possible.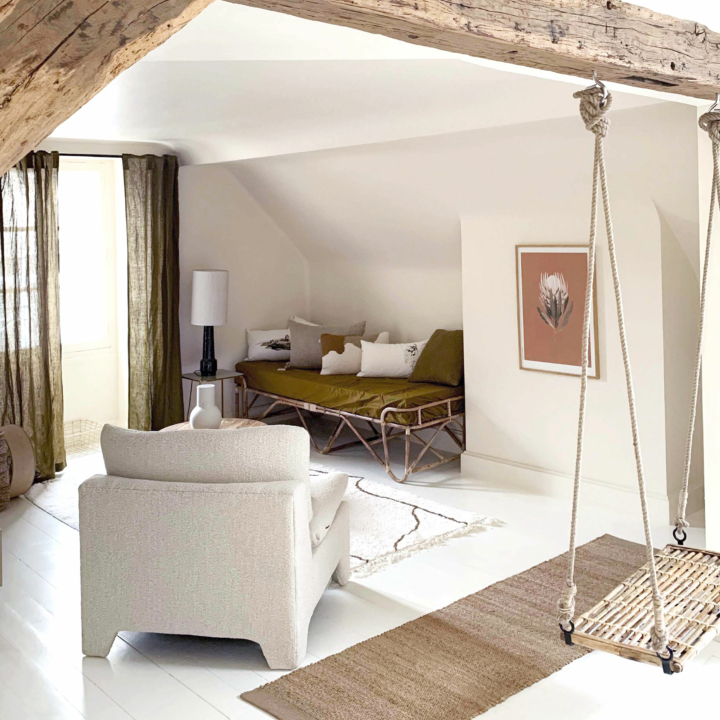 Liliana
« Super séjour.
Appartement très agréable, un très bon accueil, l'équipe professionnelle disponible et à l'écoute. »
Andy
« Brand renovation by interior designers in original building a few minutes walk from the centre.
Easy check-in, very helpful owners who own art and design business in the same building. »
Dominique
« Très bon accueil et disponibilité de notre hôtesse. Qualité de la literie, belle collection de lampes et joli mobilier. Superbe décoration de l'appartement car c'est le savoir faire de la maison baluchon : très belle collection de maroquinerie et de linge de maison, de papiers peints, etc.. Décoration exceptionnelle jamais rencontrée jusqu'à présent. »
Annette
« Superb!
Incredible service, wonderful and friendly proprietaire and staff. I felt extremely welcomed and I thoroughly enjoyed my stay in a comfortable apartment with all modernities. Location is excellent, effectively central to the town, and all amenities close by. Thoroughly recommended! »
Stéphane
« Un temps d'accueil prévenant et créatif, une soirée calme et reposante, une matinée très agréable. »
Zebriri
« Parfait!
Great host, amazing apartments, beautiful village and easy to walk into the city centre! »
Anne-Sophie
« Tout était parfait: accueil chaleureux avec plein de conseils, déco hyper soignée (encore mieux que sur les photos), confort de l'appart (tout est super bien pensé) et emplacement dans Chaumont. »
Ghislaine
« Un accueil exceptionnel , dans un lieu exceptionnel. »
Alexandre
« Cadre idyllique en plein cœur de ville. J'ai apprécié le petit déjeuner sur mesure, les hôtes sont très attentif, un décor magnifique et fait avec gout, un séjour sans pareil. »
Hugues
« Un accueil chaleureux dans une maison a tourelle rénovée avec goût et raffinement.
J'ai apprécié le petit déjeuner sain, bio, copieux et gouteux, la décoration originale et raffinée, l'accueil de la propriétaire, la situation au cœur de la très belle ville de Chaumont. »
Yvan
« Un appartement exceptionellement beau avec chaque détail a la perfection. »
Nicolas
« Magnifique appartement rénové avec beaucoup de goût dans une jolie rue de Chaumont. Beaucoup d'élégance et de charme, une disposition extrêmement soignée, une touche d'histoire – et un accueil flexible et chaleureux de Nathalie. »
Philippe
« Cocooning.
La décoration et l'aménagement de l'appartement sont magnifiques. »
Also to discovers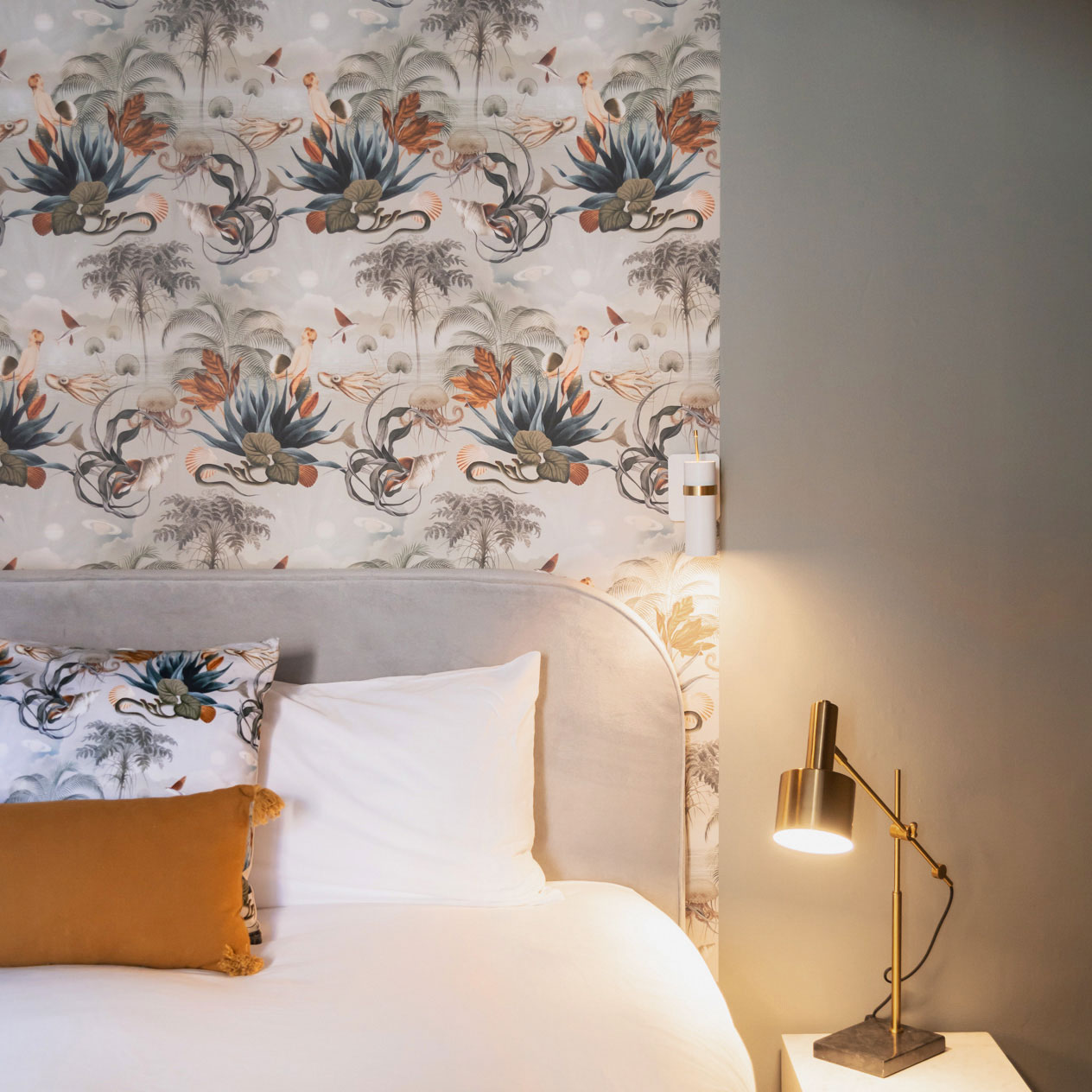 Deluxe Apartment
This apartment is situated on the first floor.
n the bedroom, discover one of our interpretations around Greek mythology, right in between the Sky and the Sea. In combination with the elegant furnishings, a vintage bathtub, decorative wall moulding and the patterned tiles, you will experience the feeling of sleeping in a château.
As for the living room, it is designed with dark colours and ebony wood, blending together sophistication and modernity with elements from our INDE collection, creating a calm and warm atmosphere.
From 145,00€ / Night